Maya and the Tough Guy by Carter Ashby
Genre: Contemporary Romance 18+
Contains: strong language, sex, abuse triggers
Source: eARC for Honest review
Maya Bradley is on her own now. With the help of her dear friends, Zoey and Addy, she's determined to give her children the lives they deserve, away from their abusive father. But the journey is destined to be difficult, and she meets her first roadblock when she asks sexy, tattooed bar owner, Jayce Gilmore, for a job serving drinks.
Jayce has two reasons for not wanting to hire Maya. One: she deserves a more respectable job. And two: he's been madly in love with her since he was a young boy. But when he finally realizes how desperate she is for work, he has no choice but to bring her on.
With Maya struggling to earn a living, get an education, and raise two children, Jayce finally finds himself in a position to help her. And though she isn't interested in a relationship, Maya is showing definite signs of physical attraction. Jayce is sure he can keep his love hidden and fulfill her every fantasy. Unfortunately, he has severely underestimated the needs of his heart. As the moment of truth fast approaches, Maya must decide whether to break a tough guy's heart, or open her fragile soul to the risks that come with loving again.
Maya and the Tough Guy picks up right where Zoey and the Nice Guy left off. With that said, it can still be read as a standalone, though the characters are introduced in the first book of the series. As with the first book, I enjoyed this story and read it quickly, but didn't love it. Once again, we get some meaningful character development, but I still had mixed feelings about the overall story.
This book (and the previous one) tackle the subject of abuse (physical, mental, sexual, and neglect). I thought the author handled the subjects well, though at times things seemed to be resolved a little too easily. But she also examined the characters from different angles and how abuse affected them, so I really appreciated that.
Character-wise, Maya and Jayce are our main love interests. Maya is fresh out of an abusive marriage, which started fresh out of an abusive home life. Maya's had a crappy life. But with the support of her friends, Maya is getting back on her feet. Maya was a difficult character for me. While I understood her background, her current behavior was frustrating at times, particularly in regards to her judgmental feelings toward Jayce. Her insensitivity made her less likable, even though I empathized with her life and circumstances. Jayce, who has been in love with Maya forever, was endearing and trying hard to be a sensitive friend to Maya. I really felt for the guy. But Jayce, also coming from an abusive childhood, tends to shield his emotions and has difficulty communicating. So the two of them together made for an interesting read. They would be a lovely couple one moment, and then Maya's fears or Jayce's feelings would shake things up.
Story-wise, this read was completely engaging and I read it in less than 24 hours. There were no dull moments. Even the therapy sessions were engaging and to the point. I did, however, feel like Maya and Jayce's relationship was too fast, considering Maya's history. As much as I wanted Jayce to get his happy ending, I wanted more time for them. I liked them, I just wanted more time to pass. It was also nice to see Zoey and Kellen and their relationship continue to develop, and Maya's kids who had their own difficulties. Plus, we get a glimpse of Addy and the guy she's been pining over, so there were lots of interesting things going on.
Overall, this was an enjoyable, engaging read with characters that are both frustrating and fascinating. There are things that didn't sit right with me during the read, and feelings I cannot quite pinpoint as to why I didn't love it, but it was enjoyable nonetheless. I look forward to Addy's story and I'm hoping that will be the one I finally love.
3 to 3-1/2 Stars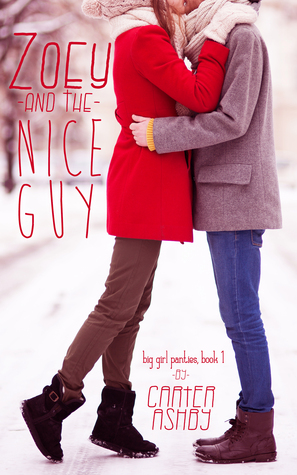 Book 1: Zoey and the Nice Guy