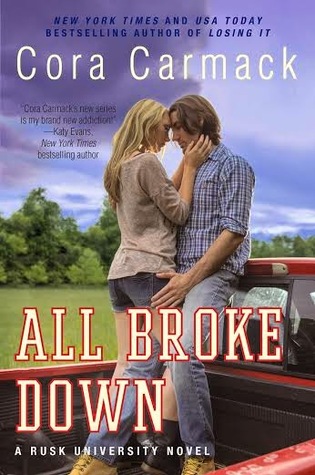 All Broke Down by Cora Carmack
Genre: New Adult Contemporary 18+
Contains: strong language, explicit sex
Source: eARC for Honest review
In this second book in New York Times and USA Today bestselling author Cora Carmack's New Adult, Texas-set Rusk University series, which began with All Lined Up, a young woman discovers that you can't only fight for what you believe in... sometimes you have to fight for what you love.
Dylan fights for lost causes. Probably because she used to be one.
Environmental issues, civil rights, corrupt corporations, and politicians you name it, she's probably been involved in a protest. When her latest cause lands her in jail overnight, she meets Silas Moore. He's in for a different kind of fighting. And though he's arrogant and infuriating, she can't help being fascinated with him. Yet another lost cause.
Football and trouble are the only things that have ever come naturally to Silas. And it's trouble that lands him in a cell next to do-gooder Dylan. He's met girls like her before fixers, he calls them, desperate to heal the damage and make him into their ideal boyfriend. But he doesn't think he's broken, and he definitely doesn't need a girlfriend trying to change him. Until, that is, his anger issues and rash decisions threaten the only thing he really cares about: his spot on the Rusk University football team. Dylan might just be the perfect girl to help.
Because Silas Moore needs some fixing after all.
Silas Moore took some warming up for me. Because of the way he dealt with (or ignored) his past, he came across pretty shallow (purposefully so). While I knew there was a reason, it still didn't instantly endear me to him. Thankfully he grew on me. Sometimes we need to be humbled before we find our strength, and Silas needed some redirection and perspective on his life and his future. And who better to steer him into ambitions and hopes greater than himself than Dylan? Now Dylan I liked right away, even though I knew there was much more to her beyond the surface. Having her own set of personal and familial struggles, Dylan's took a different path than Silas, but each still are in desperate need of something else in their lives, because their current paths are just not cutting it anymore. So meeting in a jail after being arrested for different circumstances equals a totally awesome meet-cute and the start of an exciting and heart-warming love story.
I really enjoyed Silas and Dylan's story. There was a complexity about it that really drew me in as a reader, but a simple sincerity about it that made me believe it beyond the written page. Outside of Silas's shallow initial sexual thoughts, I really liked how Silas and Dylan worked together. They were so well matched, bringing out the best in each other. I liked their character growth throughout the novel and how by the end they were not just a sweet couple, but they were better individuals as well.
Now Dylan is also a bit of an activist, trying her best to make a difference in her community. I liked how Carmack integrated Dylan's philanthropic lifestyle, and how community-minded she was, pulling Silas in as well. It was just the right amount of inspiration without being preachy. And then BAM! Carmack hits me in the gut at one point in the novel. I won't give away what happens, but I didn't see it coming. But it was really well done, thought provoking, heartbreaking, and honest. I liked the risk and the courage displayed here.
Overall, this one was even better than the first book in the series. Silas grew on me and became a star and a hero. Dylan was a hero who found herself. Their love story was sweet and touching, hitting the heart and leaving us with hope.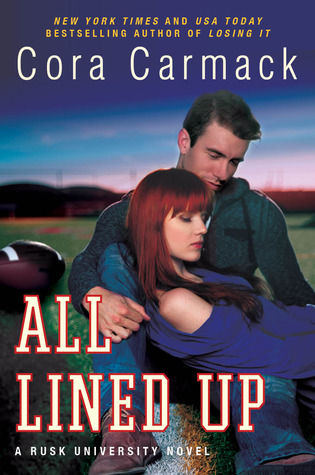 All Lined Up (#1)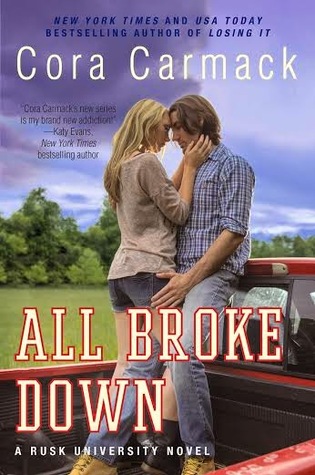 All Broke Down (#2)