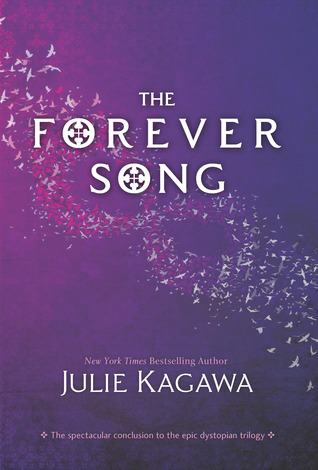 The Forever Song by Julie Kagawa
(Blood of Eden #3)
April 15, 2014
393 pages
Genre: YA Paranormal, Vampires
Contains: Strong language, violence, some sexual references
Source: eARC and Personal Purchase
Vengeance will be hers.

Allison Sekemoto once struggled with the question: human or monster? With the death of her love, Zeke, she has her answer.

Monster.

Allie will embrace her cold vampire side to hunt down and end Sarren, the psychopathic vampire who murdered Zeke. But the trail is bloody and long, and Sarren has left many surprises for Allie and her companions - her creator Kanin, and her blood brother, Jackal. The trail is leading straight to the one place they must protect at any cost - the last vampire-free zone on Earth, Eden. And Sarren has one final, brutal shock in store for Allie.

In a ruined world where no life is sacred and former allies can turn on you in one heartbeat, Allie will face her darkest days. And if she succeeds, her triumph will be short-lived in the face of surviving forever alone.

THE FINAL HUNT IS ON.
The Forever Song is the epic conclusion to Julie Kagawa's captivating Blood of Eden trilogy. I had put off reading this for a while because I was equally nervous of how things would end, and sad that this storyline would end. Where things left off in The Eternity Cure, I was completely heart-broken for Allie, but I also knew there was going to be a lot more in store for her where Sarren's games and torture were concerned. And I was right. But being right doesn't make the read any easier. See, Allie does a lot of soul-searching here. Now, many would say as a vampire she has no soul. But she does. As long as she works for it, fights for it, and doesn't forget who she wants to be. Not the monster people assume she is. Watching her struggles was hard, watching her stumble was hard, but watching her overcome her obstacles and find herself was worth it. And this struggle in turn allowed her to be ready for the pain she would face, but also be the strength that someone near and dear to her would need in a big way.
Kanin and Jackal are also along the ride, forming Allie's odd family unit. I enjoyed their interactions and how Kagawa used such differing characters in such cohesive ways. Even in their agree-to-disagree moments, I could feel the odd love/like/tolerate relationship between them beyond just the bond of blood. Then throw in Sarren's surprise, and this unit really knows how to pull together. They are tested in a myriad of ways. And I completely loved them all and how Kagawa developed their characters, their relationships, and their vision of the future.
As for the Sarren storyline, evil incarnate that he is, I figured there would be an epic showdown of some sort at some point. But the road to Sarren was bloody, stomach-turning, and seriously disturbing at times. Whatever made this dude so evil should never happen again, because Sarren is one seriously messed up guy. But what I found truly fascinating in this story is that the battle between good and evil came down to characters that most would have deemed all evil. In this world, all vampires were supposed to be evil and soulless. Yet humanity's future rested on the consciences of vampires, and "good" vampires choosing to do the right thing, even if in the end some would still not recognize them for it.
Overall, Blood of Eden is a gritty, bloody, violent series, but also a story of fighting for what's right, overcoming prejudice, not giving up on hope, being your best self (even if that self is a vampire), failing and triumphing, becoming family, and finding true love. And The Forever Song was the amazing conclusion I was hoping for. Another incredible series from Julie Kagawa.
Blood of Eden series: