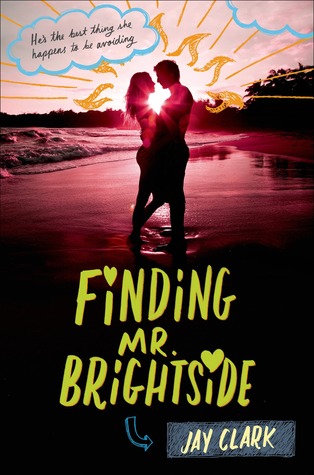 Finding Mr. Brightside by Jay Clark
Contains: a few curse words, mild sexual references
Source: eARC for Honest review
Abram and Juliette know each other. They've lived down the street from each other their whole lives. But they don't really know each other—at least, not until Juliette's mom and Abram's dad have a torrid affair that culminates in a deadly car crash. Sharing the same subdivision is uncomfortable, to say the least. They don't speak.
Fast-forward to the neighborhood pharmacy, a few months later. Abram decides to say hello. Then he decides to invite her to Taco Bell. To her surprise as well as his, she agrees. And the real love story begins.
I'm writing this review after just finishing Finding Mr. Brightside, feeling happy, content, entertained, and loved. This is one of those weird, quirky books that for me took a little adjustment period in the beginning with the writing style, but it is also that odd writing style, along with the unique main characters that kept me glued to the pages. My conclusive feeling: I loved it!
This book tackles the heavy topics of parental affairs, death, and over-medication in a manner that didn't skip over the seriousness, but also didn't create a huge dramafest. Instead it used heart, humor, compassion, understanding, and optimism in all the right places to heal. I really appreciated how the author was able to address Abram and Juliette's situation and circumstances so thoughtfully.
Abram and Juliette were fascinating characters that I fell in love with. Each had their own issues and voice, and the combination of the two made them such a fun couple to read about. As weird as their situation was, I couldn't help but root for them wholeheartedly. These two completely won me over, especially Abram. Seriously, he's a fantastic character. The story alternates between their POVs and it made the story that much better for it.
Overall, I loved Finding Mr. Brightside. It's quirky and thoughtful and sweet. Now those quirks may not be for everyone, but if you're looking for something a little different but a lot great, I'd recommend checking it out.