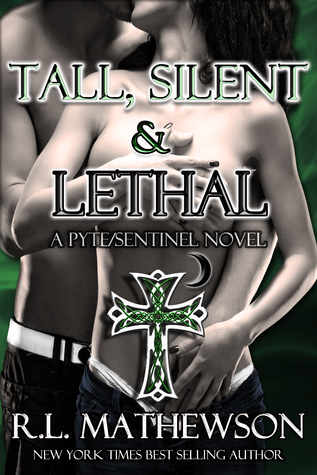 Tall, Silent & Lethal by R.L. Mathewson
Genre: Paranormal Romance 18+
Contains: explicit sex, language, violence
Source: Personal purchase
T
his is the book that will change it all…….

Never again……

Christofer lives by those words while Cloe would rather die by them……..

Too many years living on the run, of always being seen as nothing more than a monster and a freak, has left Christofer cold and distant. He hates his life, his fate, but he's made promises and nothing on earth will stop him from keeping them….

Except for the woman that invades his world, takes him by surprise, aggravates him, gives him hope and makes him wish that things could be different, but they can't…….

Not unless he's willing to risk everything.

Cloe doesn't need anyone, doesn't want any complications, but things quickly change when she accepts a job that destroys her world and brings her the one thing that she never thought she'd find again….

Peace
I LOVE THIS SERIES! I re-read the previous three books right before reading Tall, Silent & Lethal. I loved getting back into this world, experiencing these characters all over again. Even Chris annoying me to death all over again in book two was worth it, because I love the "family" that is created with this ragtag group of pytes, sentinels, and the cranky alpha wolf. But, if you don't have time to re-read all the lovely books in this series before diving into Tall, Silent & Lethal, you'll still be okay. Mathewson does a good job of bringing the reader up to speed with the past without it being excessive.
Christofer has to be one of my favorite characters in this series. Ephraim has been my main man for a while, but there's something really special about Christofer. His past is intense, his present is misunderstood and filled with prejudice by those around him, and his future is uncertain as he cares for his aging sister. There's also quite a bit of mystery surrounding him, and I loved that not everything about him was revealed right away. But I truly loved his brash but sweet personality. His unconditional love for his sister was lovely, even when he had no clue what he was doing. He was strong and intense, but also genuine and considerate. And then he gets closer to Cloe and the two of them were great together. I felt the love and tenderness between them, the chemistry and the protectiveness. I completely loved them as a couple.
Cloe does not stay in one place for long due to the circumstances of her past, so when she meets Christofer and his sister, she's not supposed to be there for long. But when things are meant to be, they're meant to be. Especially when Cloe's past does not give up easily. Cloe also has a mysterious past as well, but this time around we know more about it then she does, so we get to watch the horror unfold for her. But despite her heavy past, Cloe is an incredible person. Yes, she freaks out a lot in the beginning, almost repetitively. But her fortitude of character is admirable, and she finally gets it. Christofer's persistence certainly helped. Then to see her grow closer to Christofer, and see them be all they can be for each other was beautiful. They have not only a great physical relationship, but a great emotional connection.
This series would be nothing without the incredible tension of the plot, the twists of this paranormal world. Masters and Alphas are still seeking Pytes and will stop at nothing to get their intended targets. Beyond the new romances we get in each of these books, I love the overall story arch, its growing intensity, the world building. Some problems are resolved, others are born anew, many continue throughout, but all are relevant and fascinating. This story was no exception. There was a lot going on, and I was drawn into all the action and intensity and mystery right away, and it gripped me until the very end.
Of course, this series wouldn't be as special if the characters from the previous books were not present in the subsequent stories. Fortunately they are. We get to see everyone. Well, almost everyone. There were a couple of people missing, but I think they will play larger roles in the next book. But one of the beautiful things about this series is the "family" they've created. I love them all, even Chris whom I've forgiven since book 2, and love being wrapped up in their world, even if they just play a supporting role in each story. I love seeing them all. I'm truly looking forward to whatever Mathewson cooks up for the next book. And if the ending of this one is any indication, it's going to be intense.