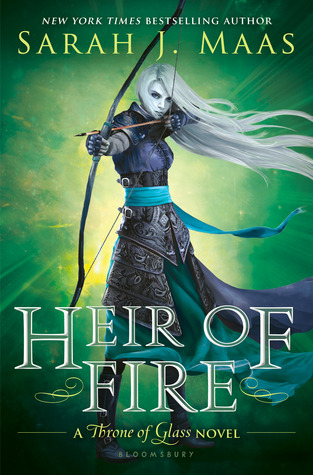 Heir of Fire by Sarah J. Maas
Bloomsbury USA Children's
Contains: violence, sexual references
Source: eARC and personal purchase
Synopsis:
Lost and broken, Celaena Sardothien's only thought is to avenge the savage death of her dearest friend: as the King of Adarlan's Assassin, she is bound to serve this tyrant, but he will pay for what he did. Any hope Celaena has of destroying the king lies in answers to be found in Wendlyn. Sacrificing his future, Chaol, the Captain of the King's Guard, has sent Celaena there to protect her, but her darkest demons lay in that same place. If she can overcome them, she will be Adarlan's biggest threat – and his own toughest enemy.





While Celaena learns of her true destiny, and the eyes of Erilea are on Wendlyn, a brutal and beastly force is preparing to take to the skies. Will Celaena find the strength not only to win her own battles, but to fight a war that could pit her loyalties to her own people against those she has grown to love?
My Review:
WOW! Just wow! I LOVED IT! This series continues to get better and better. Heir of Fire picks up not long after where Crown of Midnight left off. After all that Celaena has endured in the previous books and novellas, you can only begin to imagine where her heart and mindset are at the start of this book. And then Celaena's journey just gets richer and deeper and more intricate and more engrossing. I won't reveal how the story progresses. But just know that the tale that Sarah J. Maas continues to weave is so incredible. I am amazed by the direction the story took, and I cannot even begin to try to imagine where the next three books will go (because this is a 6-book series plus the novellas). Nor do I want to try and predict anything. I think the beauty of reading this series is being led on this amazing journey itself and letting the story unfold on its own.
I must at least speak a little on character, though. The character development, revealing, and
interpretation throughout the series, and in Heir of Fire in particular, is truly special. Here we get several POVs. Breaking up the action using this split POV style can hurt a novel, but in the case of Heir of Fire, it simply made it all the better. I loved that we get the full picture of this world and all that these varied characters encompass. We get to see our favorites from the previous novels, plus some new characters who were simply stunning. I already loved Celaena, Chaol, and Dorian. Now I have new loves in Rowan, Manon, and Abraxos. Actually, there are many characters I completely loved (and a few I totally hated). Seeing their struggles, their hearts, their torments, their beliefs, their questions, their tragedies, and their hope. I loved it all!
Bottom-line: READ. THIS. SERIES!!! It is truly a work of genius, and it only gets better and better with each additional book, each additional character, each trial and tribulation, each life and death and everything in between. I cannot even begin to imagine where this series will ultimately go, but I'm on board until the very end. My heart has already been broken and I'm sure it will be again, but I can't wait to see what comes next. Wow!
You must read this series! It is so good!!!
The Assassin's Blade (#0.1-0.5)